PERC
www.perc.org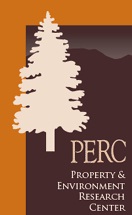 PERC—the Property and Environment Research Center—is the nation's oldest and largest institute dedicated to improving environmental quality through property rights and markets. Founded 30 years ago in Bozeman, Montana, it began as a think tank where scholars documented how government regulation and bureaucracy have led to environmental degradation. At the same time, they sought to explain how markets could be harnessed to improve environmental quality. From this work originated the idea of free market environmentalism.

To back up their ideas, PERC researchers found real world examples of how FME was already working. To further the spread of FME from theory to action, PERC established a program to empower individuals - environmental entrepreneurs - by showing them how to use property, contracts and the market process to enhance environmental quality. PERC's Enviropreneur Institute attracts people from around the globe who are seeking to put FME to work.

PERC continues to grow and change as it sees needs. The newest development is PERC University. As PERC seeks solutions to some of our toughest environmental problems, the university is a place where scholars, journalists, policy makers, and environmental practitioners can come together to share knowledge, refine their work, and engage in robust discussion. The university is flourishing as representatives of many disciplines inspire each other as they explore the possibilities for applying FME.